This Wednesday Kevin and I will once again be exhibiting at Comic-Con down in San Diego. I can't believe it's already been four years since our first one! And this year we'll be at a different location than we usually are. Normally you'd be able to find us in the exhibitor table area, but to celebrate the release of the new book we thought we needed a bigger space, so now you can find us among the booths, at
booth #1316
.
Here's a preview of what's in store for you at the Fleet Street Booth!
Yuki 7 makes her San Diego debut! We will have copies of our new book, Seductive Espionage: The World of Yuki 7 for sale at Comic-Con for the very first time, along with these other items:

- Limited supply of the Collector's Edition book!
- English, Japanese, and French Yuki posters!
- Yuki 7 shirts!
- Appearances by Don Shank, Megan Brain, and Elizabeth Ito!
- Lots of other surprises

Besides the Yuki prints, I'll have a st
ock of four of my prints at the show. Two of them you've seen already, International Hotel and Passepartout. And then I'll have two new ones. The first is the 17"x17" limited edition digital print "Phileas Fogg Checks the Time" (seen in my previous post).

The second is a very limited stock of a screenprinted gig poster I did for the band The Decemberists. I'll post the whole image after the poster premieres at the venue tomorrow, but until then here's a sneak peek: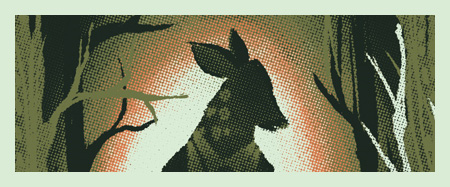 It's going to be an amazing show. Make sure and stop by and say hello to us!